Coronavirus live news: 6m Australians download tracing app as experts fear second wave in US summer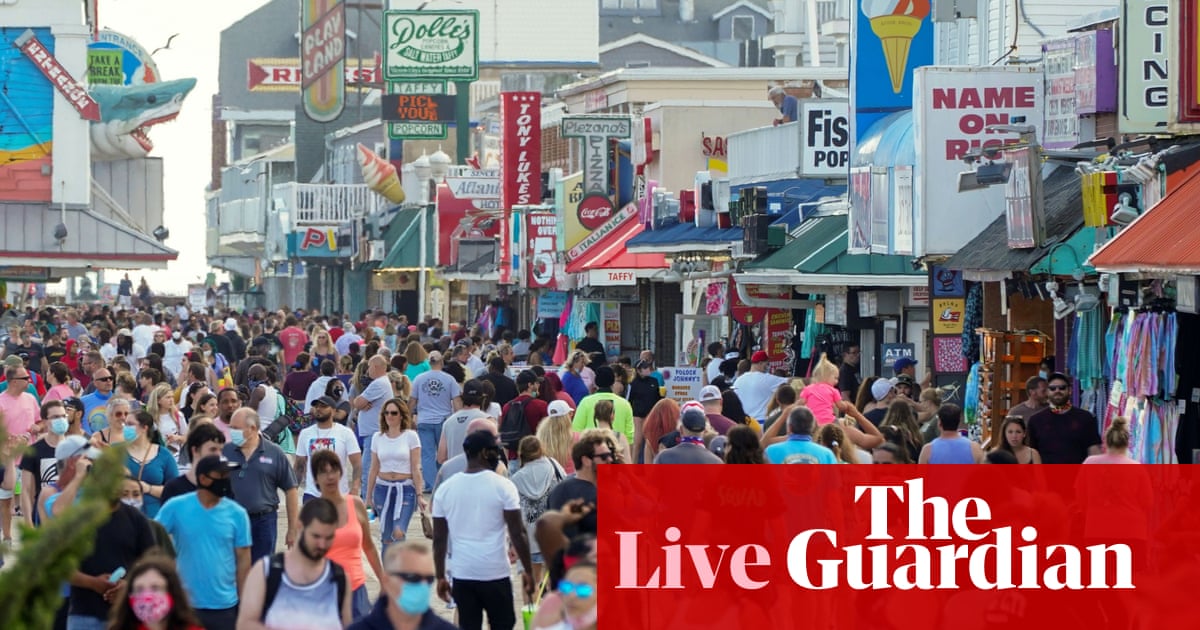 Summary
Hello and welcome to today's live global coverage of the coronavirus outbreak.
I'm Helen Sullivan and I'll be with you for the next few hours. Please do get in touch on Twitter @helenrsullivan or email: helen.sullivan[at]theguardian.com with questions, comments, tips, news and funny tweets or videos that you think other readers might enjoy.
In Australia, 6 million people have downloaded the government's COVIDSafe tracing app in under a month. The app is able to tell when a person has come into close contact – 1.5m – of an infected person (or a person later found to be infected) for 15 minutes and more, allowing authorities to contact people who may have been exposed to the virus.
Meanwhile in the US, experts and frontline workers fear the country is not ready to ease restrictions for the summer – and warn there could be a disastrous second wave of infections. On Friday, White House coronavirus taskforce member Dr Anthony Fauci said a full-blown second wave could be avoided if the holy grail of containment measures – testing, quarantine and contact tracing – continued to be adhered to.
Global deaths pass 340,000. According to the Johns Hopkins University tracker, at least 340,805 people have lost their lives in the pandemic so far. There are 5,288,392 confirmed infections. Both figures are likely to be significantly higher, however, due to underreporting and differing definitions and testing rates.
The coronavirus pandemic "appears to be taking a different pathway in Africa," the World Health Organization said, after it took 14 weeks for the continent to reach 100,000 cases and 3,100 deaths. "Case numbers have not grown at the same exponential rate as in other regions and so far Africa has not experienced the high mortality seen in some parts of the world," the agency said.
Downing Street is facing accusations of a cover-up over a 264-mile journey by Dominic Cummings, the prime minister's chief adviser, at the height of the national lockdown. There were reports that No 10 knew Cummings had made the trip to Durham, a northern city, after developing coronavirus symptoms.
New York's daily death toll falls below 100 for first time since March, as Trump causes controversy with golfing trip. 84 deaths were recorded in New York – 62 in hospitals and 22 in nursing homes. It's "still a tragedy", said state governor, Andrew Cuomo, but the figure had been over 100 for the past five days, so this is a significant drop.
Donald Trump teed up fresh controversy by leaving the White House for his golf course in Virginia. Early on a fine morning in Washington DC, the president was seen by reporters "in his typical golf wear of white polo shirt and white baseball cap … before he departed the White House" for an undisclosed location. Secret Service agents accompanying the president were photographed wearing masks. Trump was not seen to cover his face. He later arrived at his golf club in Sterling, Virginia, where he was pictured playing a round.
India to organise special trains for migrant workers to get at least 3.6 million people who have been stranded in the cities, often walking hundreds of miles, home.
More than 40 infected a German religious gathering after reopening. Six were hospitalised after the service, which was was held on May 10, a few days after the reopening of places of worship in Germany.
French death toll falls below Spain for first time in 10 days. France recorded a further 250 deaths, bringing the total to 144,806. However, after confirming several hundred deaths on Friday, Spain's death toll stood at 28,678 on Saturday, 346 more than France. This is the first time the Spanish toll has overtaken the French for ten days, giving Spain the world's fourth-highest death toll after the United States, Britain and Italy.
France has announced it will bring in a reciprocal 14-day quarantine for all visitors from the UK from 8 June, the same day that the UK imposes quarantine on all those coming into the country from abroad. However, unlike in Britain, visitors will be asked to voluntarily self-quarantine at home.
Spain will reopen to overseas tourists from July, the prime minister announced on Saturday afternoon, adding that the government would guarantee the safety of visitors and locals as the country emerges from one of Europe's strictest coronavirus lockdowns. The prime minister said central and regional governments had been planning and coordinating the return to tourism for weeks.
Cyprus beaches reopen, but with social distancing measures in place and limits on water sports, as country records first day of zero new infections.
Thailand begins vaccine tests on monkeys. Thailand has begun testing a coronavirus vaccine on monkeys after a positive trial in mice, the country's minister of higher education, science and research and innovation has said.Suvit Maesincee said researchers hoped to have a "clearer outcome" of the effectiveness of the vaccine by September.
China has recorded no new confirmed cases for the first time since the outbreak began. Beijing's National Health Commission said on Saturday there were only two suspected cases in mainland China: in Shanghai and in the north-eastern Jilin province. New asymptomatic cases fell to 28, from 35 a day earlier, it said.
The 102-year-old firm Hertz has filed for bankruptcy protection in the US after its business all but vanished during the pandemic.Hertz said in a US court filing on Friday it had voluntarily filed for Chapter 11 reorganisation. Its international operating regions including Europe, Australia and New Zealand were not included in the proceedings.
—
Source of this (above) article: https://www.theguardian.com/world/live/2020/may/24/coronavirus-live-news-6m-australians-download-tracing-app-as-experts-fear-second-wave-in-us-summer