This is the One Place You Haven't Thought to Use Rattan Yet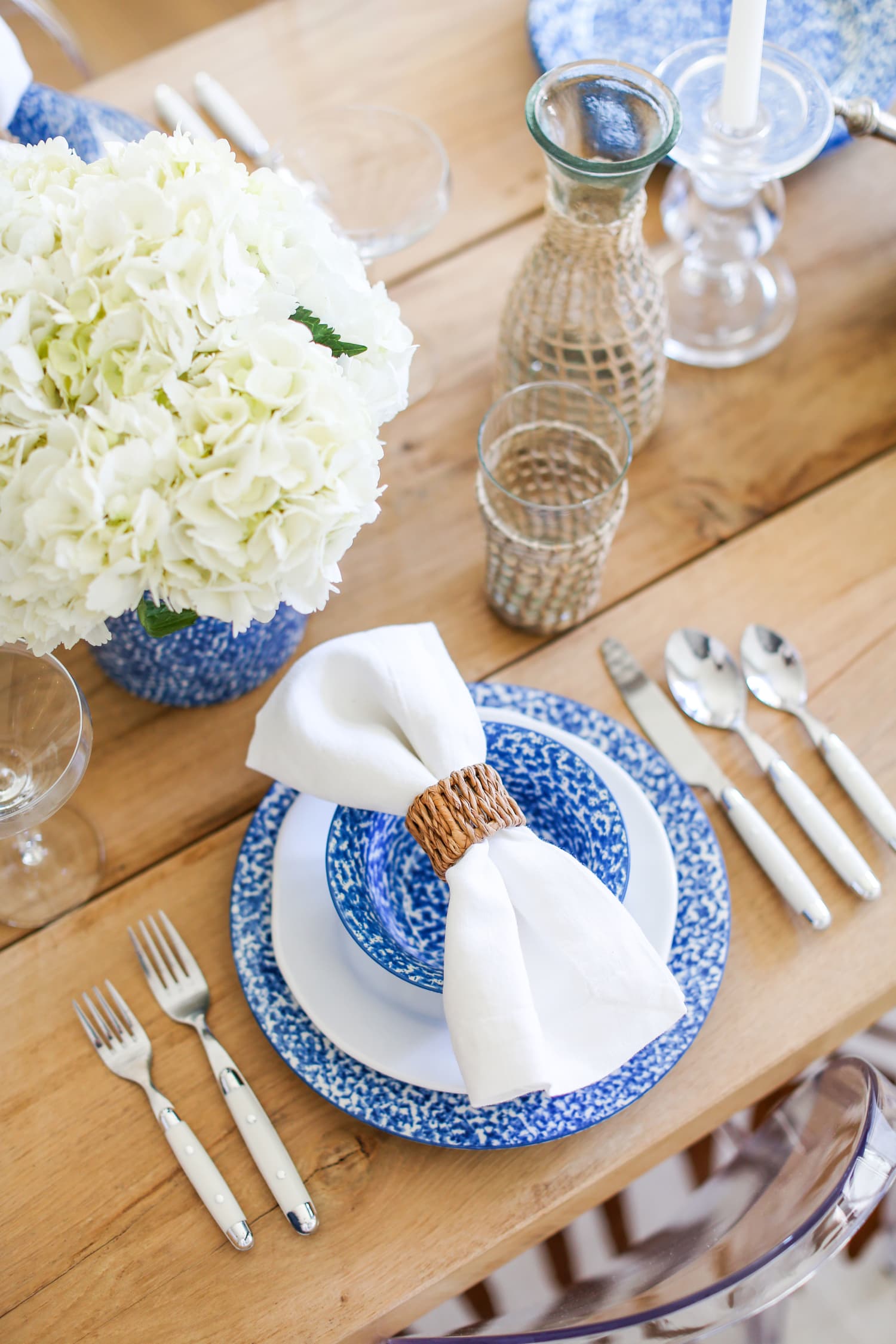 We independently select these products—if you buy from one of our links, we may earn a commission.
Early summer is shaping up to be a little bit different this year, and while you might not be entertaining guests for quite a while, that doesn't mean you can't perk up your patio or summer table with some new dishware or glasses. After all, there's nothing wrong with making everyday meals feel a bit more special.
Nothing feels more seasonally appropriate than the wrapped rattan drinking glasses that I've been spotting, well, everywhere. They're style chameleons—put them with blue and white enamel, and they will set a traditional, coastal cool tone. Add gold flatware and mismatched linens to the mix, and they're suddenly boho chic. There's something slightly tropical about them, too. I'm still majorly into the rattan trend when it comes to furniture and accessories, so I couldn't resist rounding up a few favorite tabletop pieces with a rattan look that are currently for sale. Here are some of the best kinds out there, in addition to some examples of how to style these accents for the summer. Hopefully, you'll be as excited as I am to try rattan out on your table this season.
A classic cane pattern looks just as chic on glassware as it does on a set of chairs. These woven covers are actually removable, making these particular pieces easier to wash than other options on the market.
Buy: Cayman Glasses, $48 for a set of 4 from Serena & Lily
For a slightly edgier option, try a set of these rattan-look glasses in a black colorway. You can also get a set of these in a highball silhouette as well.
Buy: Cane Tumblers, $72 $54 for a set of 6 from Pottery Barn
Perfect for punch, lemonade, or iced tea, this pretty pitcher will add a touch of texture to your table. The glass is recycled and the woven wrapping is hand-done, so it's best to hand-wash this piece.
Buy: Seagrass-Wrapped Pitcher, $42.00 from Anthropologie
Now that you've seen some options for glassware, it'll soon be time to put these pieces to good use, even if your next big dinner party is still TBD. Here are some of my favorite ways to integrate these pieces into your space on the daily.
Add Charm to Your Cookout
Whether you're just enjoying hamburgers and hotdogs on the patio—or something fancier, I can assure you that these glasses will elevate meal time in an instant. Blogger Carly Heitlinger paired hers with woven placemats and a gingham runner to bring a calm, coastal feel to her outdoor dining space.
Jazz Up Your Cocktail Station
Mixing up drinks at home is the new going out, and one of the best parts about adding a bar cart to your space is changing up the accessories on display each season. Blogger Amy Littleson's setup just screams summer, and her rattan glassware complements the woven cart perfectly. Better yet, it's super easy to access come cocktail hour and doesn't take up valuable cabinet space—storage never looked so chic!
On a similar note, if you're fortunate enough to have open shelving in your kitchen, you'll want to be sure to put your prettiest pieces on display. Blogger Julia Berolzheimer gave her rattan glassware a home front and center on her slab-style shelving, and the pieces are bound to make the simplest kitchen feel a little more luxe. Berolzheimer purchased her glassware with blue detailing from Amanda Lindroth. Most options available feature one color rattan or seagrass, but you can find some that feature an accent shade or simple pattern.
No backyard? No problem! With the right accessories, you can create a relaxing getaway in the middle of your own apartment like blogger Kat Tanita did in her space. Just because you're staying home with family doesn't mean you can't set the table with pieces you'd normally bring out for a fancier gathering.
—
Source of this (above) article: https://www.apartmenttherapy.com/rattan-glassware-trend-36756283